So you shall keep the commandments of the Lord your God by walking in his ways and by fearing him. 
Deuteronomy 8:6 ESV
Walk with mama is what I say to Smokey as we walk together.  This phrase was used a lot in the earlier days when Smokey entered my life. I was working with a trainer and one of the things Smokey had to learn was to walk beside me which meant not ahead of me  but beside me. He had to learn to obey my commands.  Smokey is now seven years old and from time to time when we are walking I have to gently remind him to walk beside mama and we have to refresh the commands.
The other day  I had to gently remind Smokey to walk beside me. As I was speaking the words to him, God whispered in my ear his reminder to walk beside him.  How often do we try to get ahead of God?
Getting Ahead of God
I worked with a teacher once that when students became impatient about receiving the outcome of something she would say, "God has a plan and it is a good plan."  This statement is so true! God does have a plan for each one of us and in his plans things do work out not only for the good but for his glory. ( Romans 8:28)  Yet, how many times have we wanted something, were waiting for an outcome, or an answer to prayer but just could not wait on God. Instead, we took things into our own hands. The outcome of taking matters into our own hands usually end in disaster.  Instead of being blessed we become stressed! Not only do we become stressed but we miss the blessings that God has planned for us in the midst of the waiting and the walk.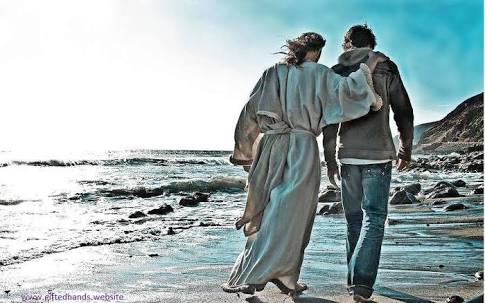 Walking With God
Deuteronomy 8:6 says, Observe the commands of the LORD your God, walking in obedience to him and revering him." ( NIV) God is telling his chosen people to obey him and walk with him. Yet, they chose from time to time to take the situation in their own hands. They would try to get ahead of God and do what they thought needed to be done.  It was in these times when life for them got messy.
Are we not like the Israelites from time to time? Don't we try to tell God how we are going to do things? What happens when we try to do it ourselves? Life of blessing turns into a life of stressing. This scripture simply reminds us that we are to walk with God and be obedient to his commands.  Notice the word with.  This means that we don't take things into our own hands, show God how to orchestrate our steps or give into the desires of the flesh. We are to be obedient to God, pay attention to his commands for us, be patient as he reveals his plan for us, and simply walk with him.
As we read on in Deuteronomy 8:7-9 it says, For the LORD your God is bringing you into a good land-a land with brooks, streams, and deep springs gushing out into the valleys and hills, a land with wheat, barley, vines and fig trees, pomegranates, olive oil and honey, a land where bread will not be scarce and you will lack nothing.  In these verses, God is telling the Israelites the blessings he has planned for them if they trust, obey, and walk with him. By walking with God and being obedient to him, the Israelites would receive the blessings God had planned for them.  The same is with us. We must walk with our Father and be obedient to him to receive the abundant blessings he has planned for us
In the days ahead as you are walking on your faith journey,  carry these words on your heart and remember to walk with your Father.
My Child,
I want you to walk with Me. Walk beside Me and tell Me what is on your heart. Once you share what is on your heart, walk beside me and hear My voice. I want you to obey Me, trust Me, and know I have so many wonderful blessings planned for you to receive. 
Walk with Me, 
Your Father in Heaven
God's mighty power comes when God's people learn to walk with God.
Jack Hyles
In their hearts humans plan their course, but the LORD establishes their steps.
Proverbs 16:9 NIV